Volunteer: a person who freely offers to take part in an enterprise or undertake a task.
Volunteers are at the core of the Timothy Hill organization. Volunteering is the perfect way to get involved at any one of the campuses. We especially love volunteers at the Retreat at Center Hill Lake and this summer was no exception.
Thanks to 3 different volunteer groups, we were able to complete weeks' worth of work in just days around our Smithville campus. We are so grateful for the two Bruderhof groups from Fox Hills and Woodcrest and the group from Integrity Church in Yaphank, NY.
Cabin Upgrades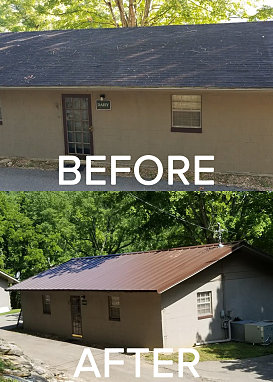 Many of our cabins needed a facelift. Our hardworking volunteers gave us a head start on making some upgrades. The biggest difference you will notice when you come stay at the Retreat are the new roofs on the Willow, Daisy and Oak cabins. The old roofs have been replaced with brand new metal roofs. The Fox Hills community completed the roof on the Daisy cabin in just over a day!
The volunteer groups also worked to upgrade the decks at the Willow, Daisy, Pine and Cedar cabins. They removed all of the old, faded boards and replaced them with brand, new boards. They pressure washed many of the cabins and put fresh coats of paint on the shutters, windowsills and front doors of all cabins. They also repaired the door on Ash cabin, as well as poured slab to setup a safer walkway from the driveway to the front deck.
Lastly, they were worked to clean out the sewer line and septic at the Beech cabins and also installed new cleanout access.
Campus upgrades
Not just the cabins needed upgrading. The three amazing volunteer groups this summer were so productive they were also able to make some repairs to the Lodge and Hickory Café. The volunteers replaced all of the exterior lights on the Lodge. They also finished installing the LVP flooring in the bathroom in the Training Center. At the Hickory Café, the painted the retaining wall in front and were able to unclog the floor drain in the kitchen.
Grounds Clean Up
On top of all of the cabin and other campus upgrades, the volunteer groups did a lot of cleaning up of the grounds. They removed a large tree trunk, dug out the dirt from drains and cleared up the shoreline below the volleyball court of all of the branches and brush.
We are so grateful for all of the work that the volunteer groups completed this summer. Their hearts for service make it possible for us to offer unmatched hospitality to all who come to visit us at the Retreat at Center Hill Lake. For more information on volunteering at the Retreat, contact us here. We are always looking for helping hands to support transforming through love at all of Timothy Hill's campuses.